Regular price
Sale price
$21.00
Unit price
per
Sale
Sold out
Introducing the cleanest Onion Soup Mix on the market! 
It wasn't until my first Super Bowl party after my Celiac Disease diagnosis that I reached to eat the chips and dip and realized I couldn't. Regular Onion Soup Mix is not gluten-free. I couldn't believe it. I then searched online for the next few weeks to find a gluten-free option I could keep on hand, but I quickly realized I didn't like any of them I found on the market, so I created my own.

Onion soup mix is such a staple in so many recipes. I grew up eating the same store-bought kind as everyone else, so when I set out to create my own, I wanted to keep the familiar flavor we all love but make it gluten-free, dairy-free, and clean-label for those of us who have food allergies and sensitivities.
We created a custom bouillon mix since all bullion mixes had extra additives like palm oil, yeast extract, or soybean oil. We wanted to be as allergy-friendly as possible, and we are excited to announce that it's free from soy, nut, MSG, gluten, dairy, and shellfish.  
Lastly, my bottles are big and versatile enough for burgers, roasts, vegetables, fish, dips, broths, and any other recipes you'd like to add rich onion soup mix flavor. 
Ingredient List: 
Dehydrated Onion 
Beef Bouillon (Salt, Nutritional yeast, Organic Beef Stock, Vegetable Blend (includes Potato, Garlic, Onion, Celery) 

Garlic 
Onion 
Chili Powder  
Paprika 
Sugar
Black Pepper 
Gluten-Free, Dairy-Free, Soy Free, Nut Free, Egg Free All Natural, No MSG
The two-year shelf life on unopened bottles. Store out of direct sunlight and in a cool, dry location. 

Share
View full details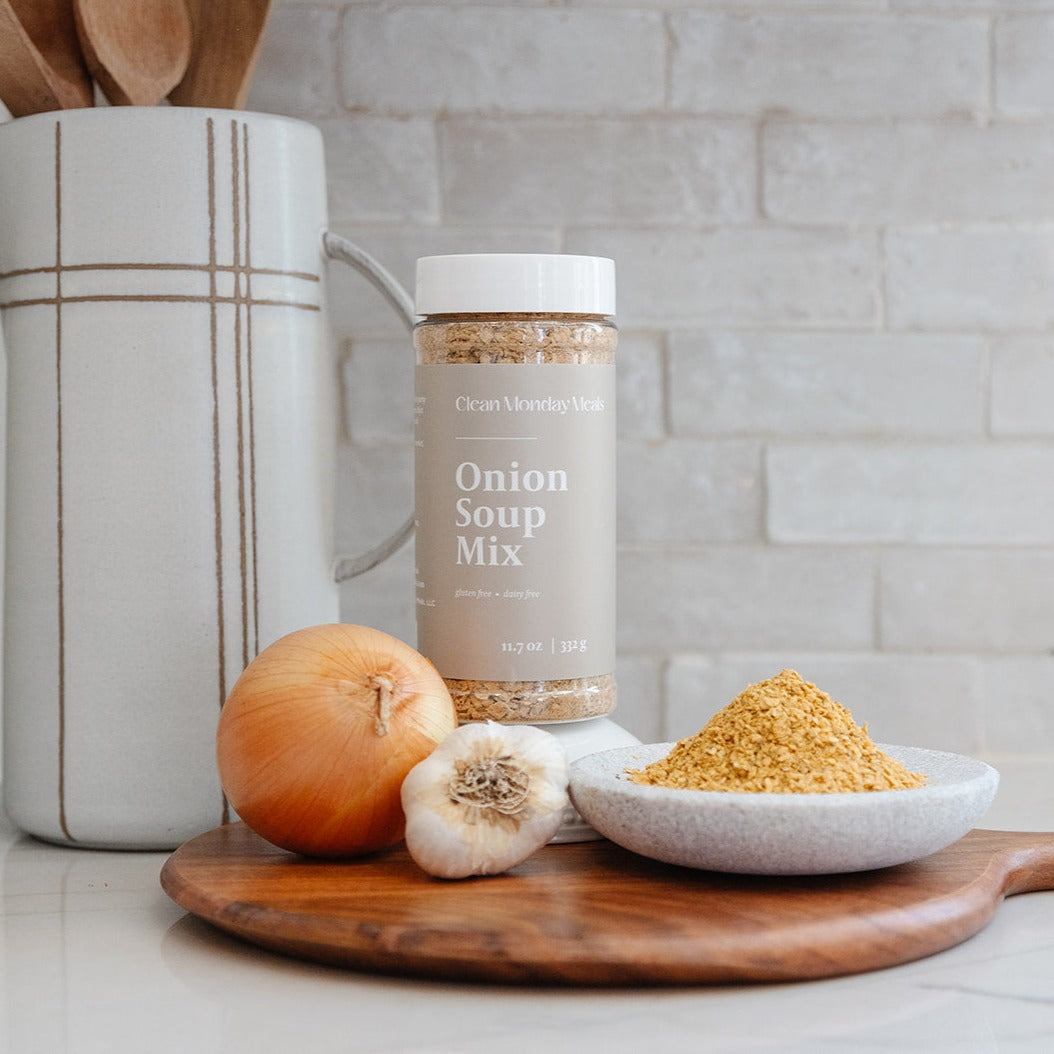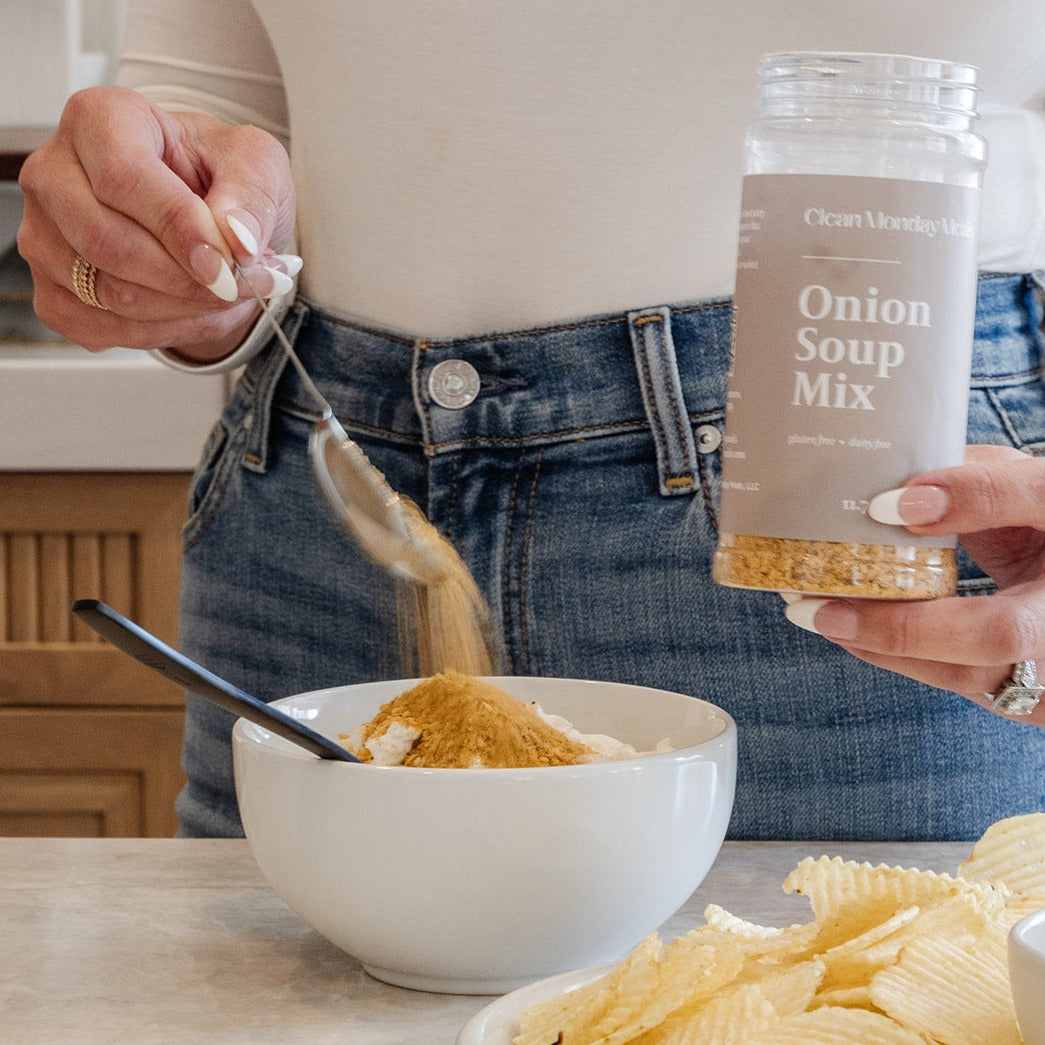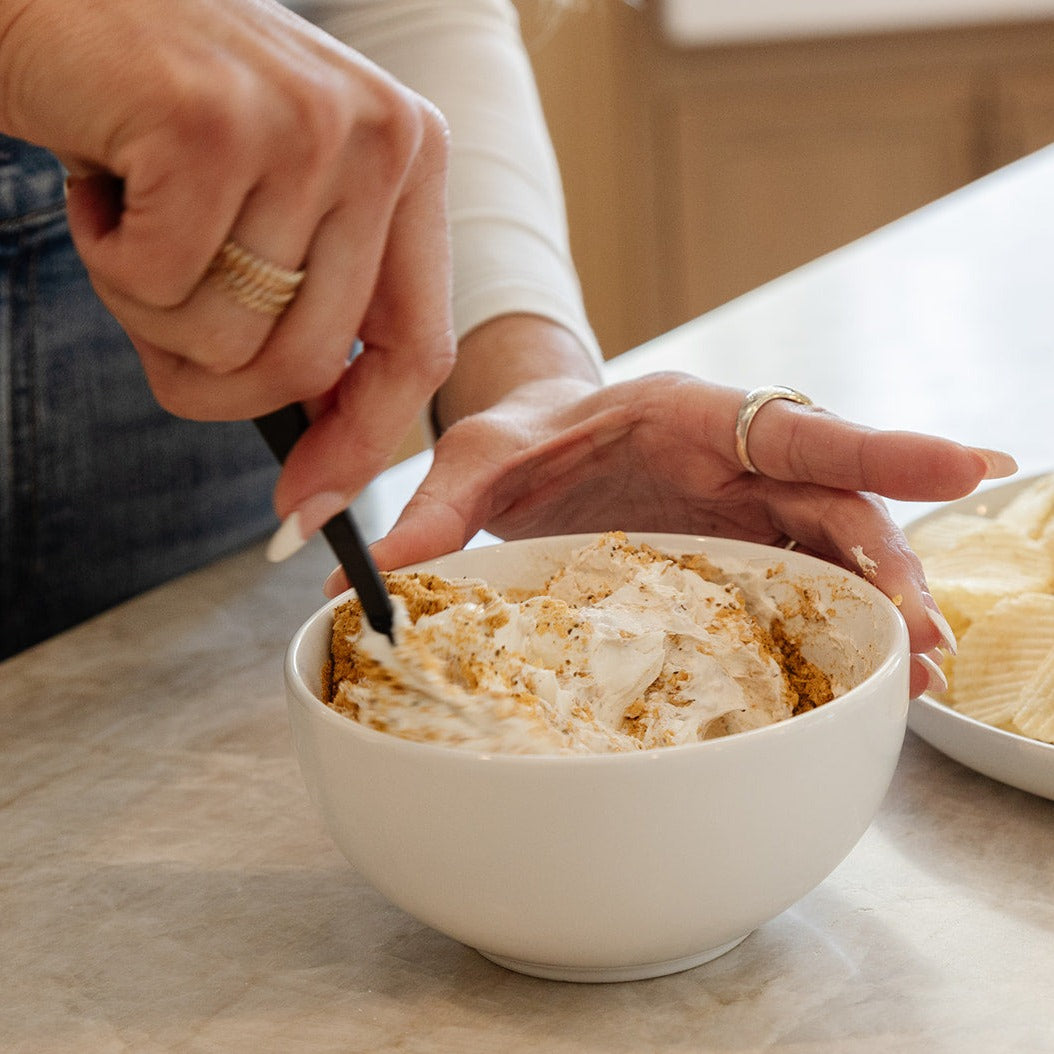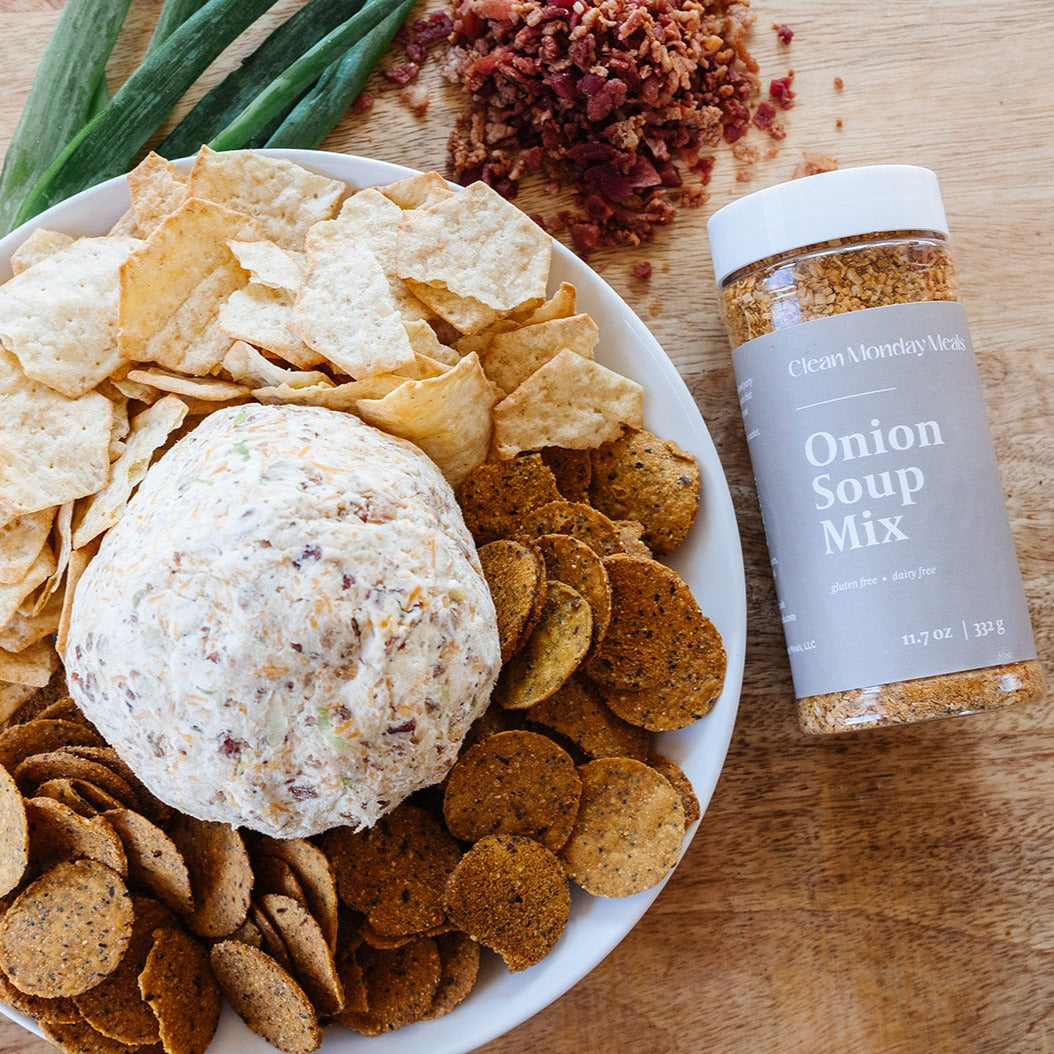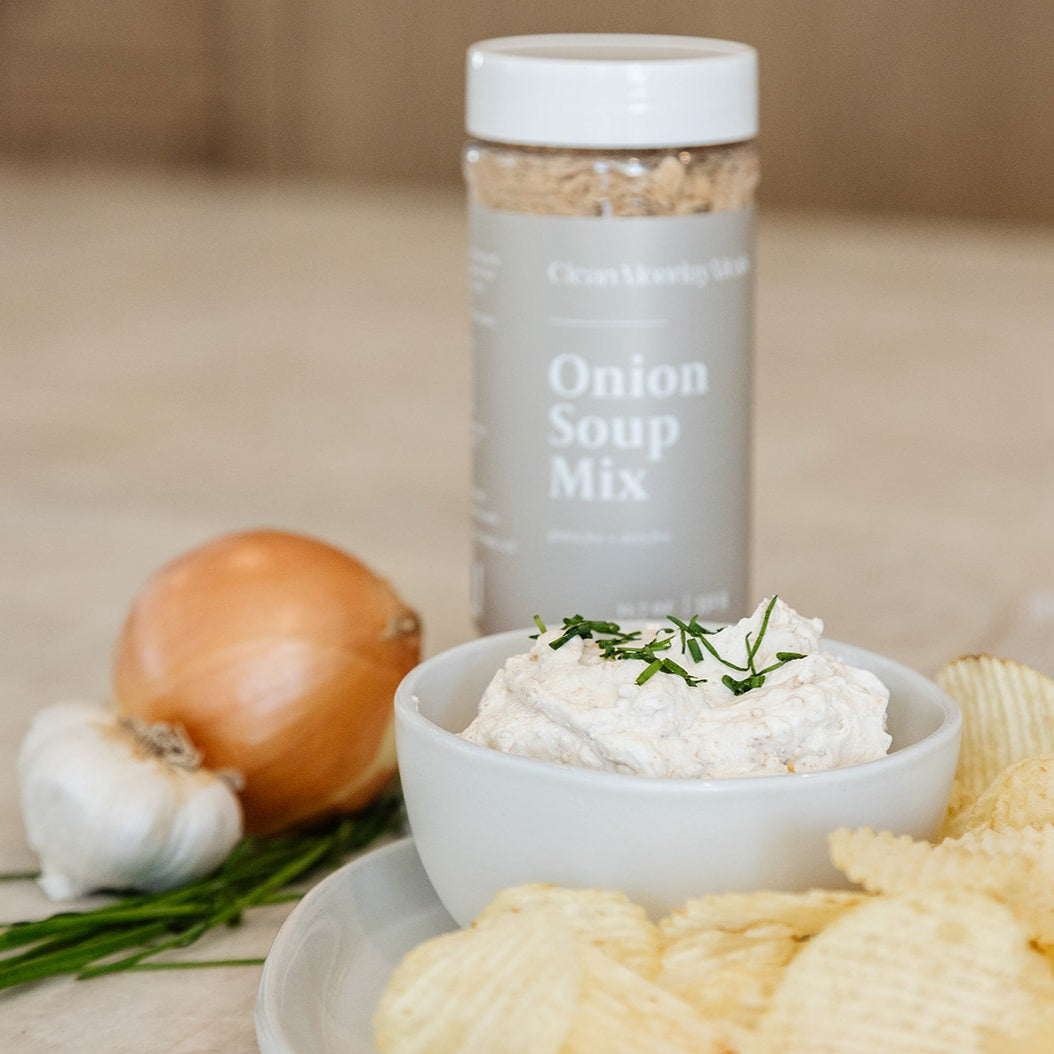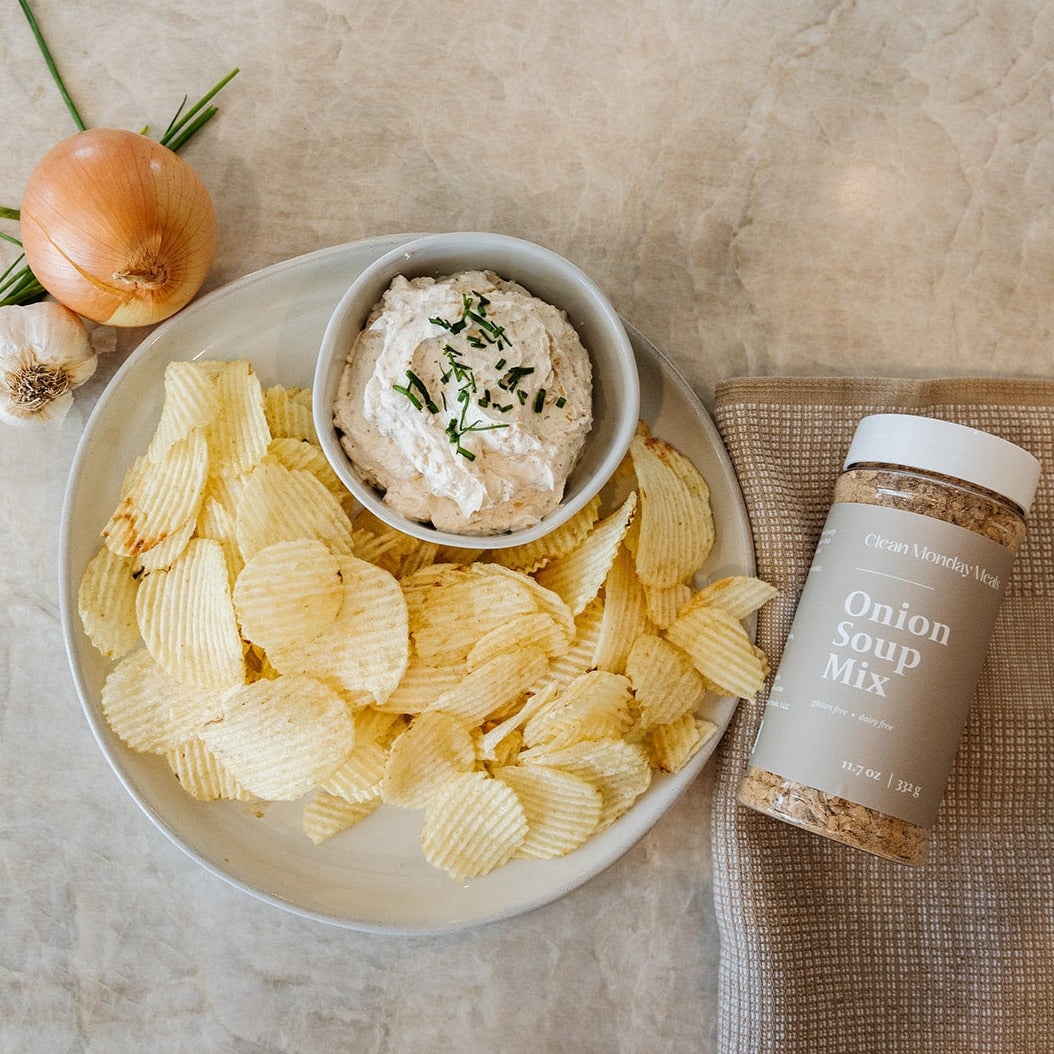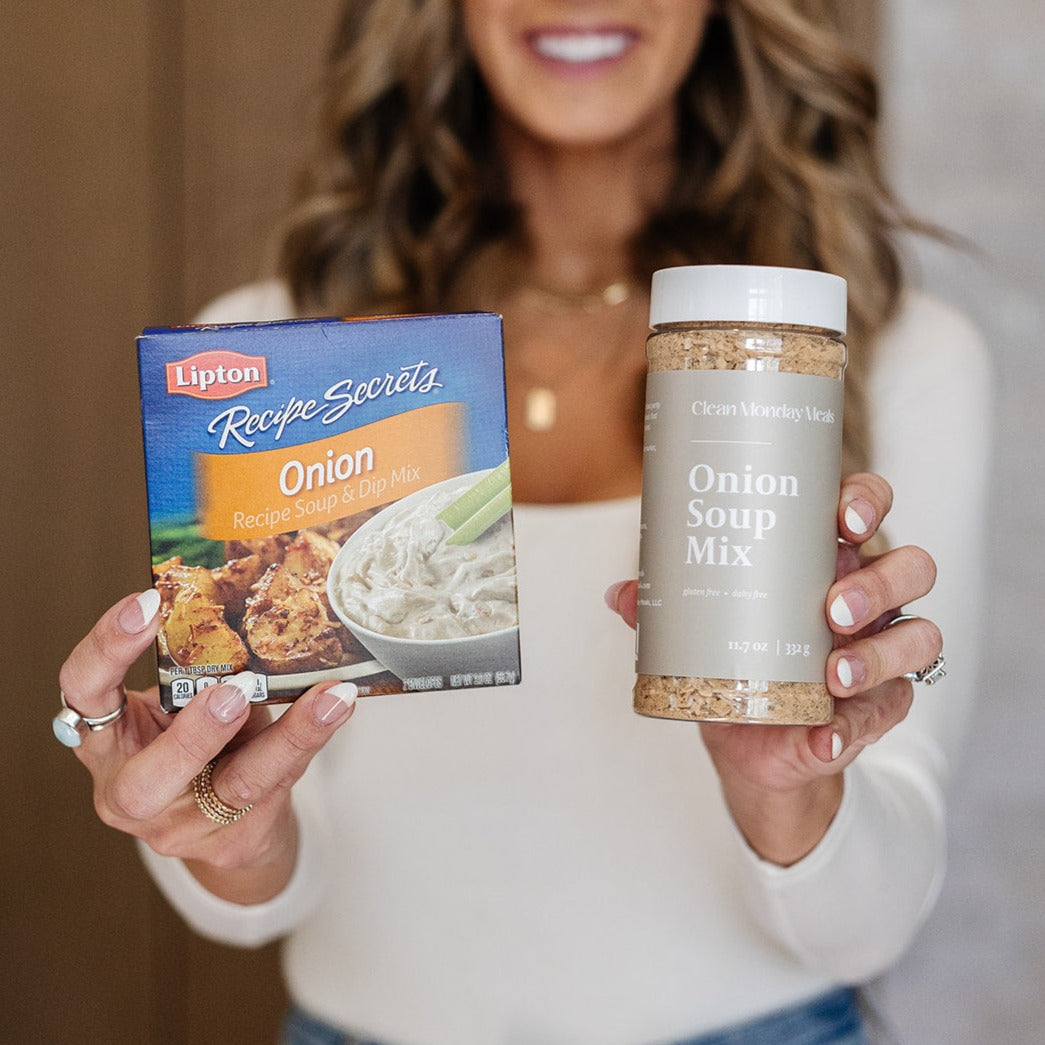 Onion Dip
Ingredients:
3 TBSP Clean Monday Meals Onion Soup Mix
16 oz sour cream (I use good culture brand or forager/good karma for dairy-free)

Instructions:
Blend all ingredients in medium bowl; chill if desired. Serve with your favorite dippers.

Enjoy!
Beef Roast
Ingredients:
3 pounds beef roast
Salt (to taste)
2 TBSP olive oil
2 Cups beef broth
1 Onion (white or yellow, quartered)
3 TBSP Clean Monday Meals Onion Soup Mix

Instructions:
Place in instant pot and close the lid. Turn setting to "manual" and set for 60-80 minutes on "high" pressure. Do a natural release for at least 10 minutes, then quick release. Remove roast, slive, and serve with vegetables. Use extra drippings to make gravy.

For the crockpot cook on low for 6-7 hours.

Enjoy!
Roasted Potatoes with Onion Mix
Ingredients:
2 Pounds baby potatoes
1/3 Cup olive oil
2 TBSP Clean Monday Meals Onion Soup Mix

Instructions:
Preheat your oven to 400 degrees F
Slice the potatoes in half or quarters. Just make sure they are all about the same size.
Add the potatoes to a medium bowl.
Add the oil and soup mix and stir.
Line a large baking sheet with parchment paper and spray nonstick spray.
Roast in the preheated oven for 20-25 minutes, turning the potatoes halfway through. Take them out when they are fork tender.

Enjoy!