Regular price
Sale price
$14.99
Unit price
per
Sale
Sold out
After my celiac disease diagnosis in 2014 and my eventual PCOS diagnosis, I decided to try changing my diet to be gluten and dairy-free. Dairy can be very inflammatory on women's bodies, and mine is significantly impacted by it. You can read more about that here if you'd like. 
One of the products that I missed a lot in my new dairy-free lifestyle was ranch. I ordered online and found so many dairy-free ranch dressings in grocery stores that didn't taste right. I eventually gave up searching. After realizing I had the rest of my life to live, I needed a dairy-free ranch option, so I went to work in my kitchen, trying to find a blend that I loved. Everyone who has tested my ranch is blown away at the flavor and aftertaste. My ranch is light, refreshing, healthy, gluten-free, dairy-free, and flavorful. 

Gluten-Free, Dairy-Free, Nut-Free, Soy-Free, Vegan
Ingredient List: 
Garlic Powder 
Salt 
Onion Powder
Dehydrated Onion 
Dried Parsley 
Dill Weed
Black Pepper 
Dried Chives
Share
View full details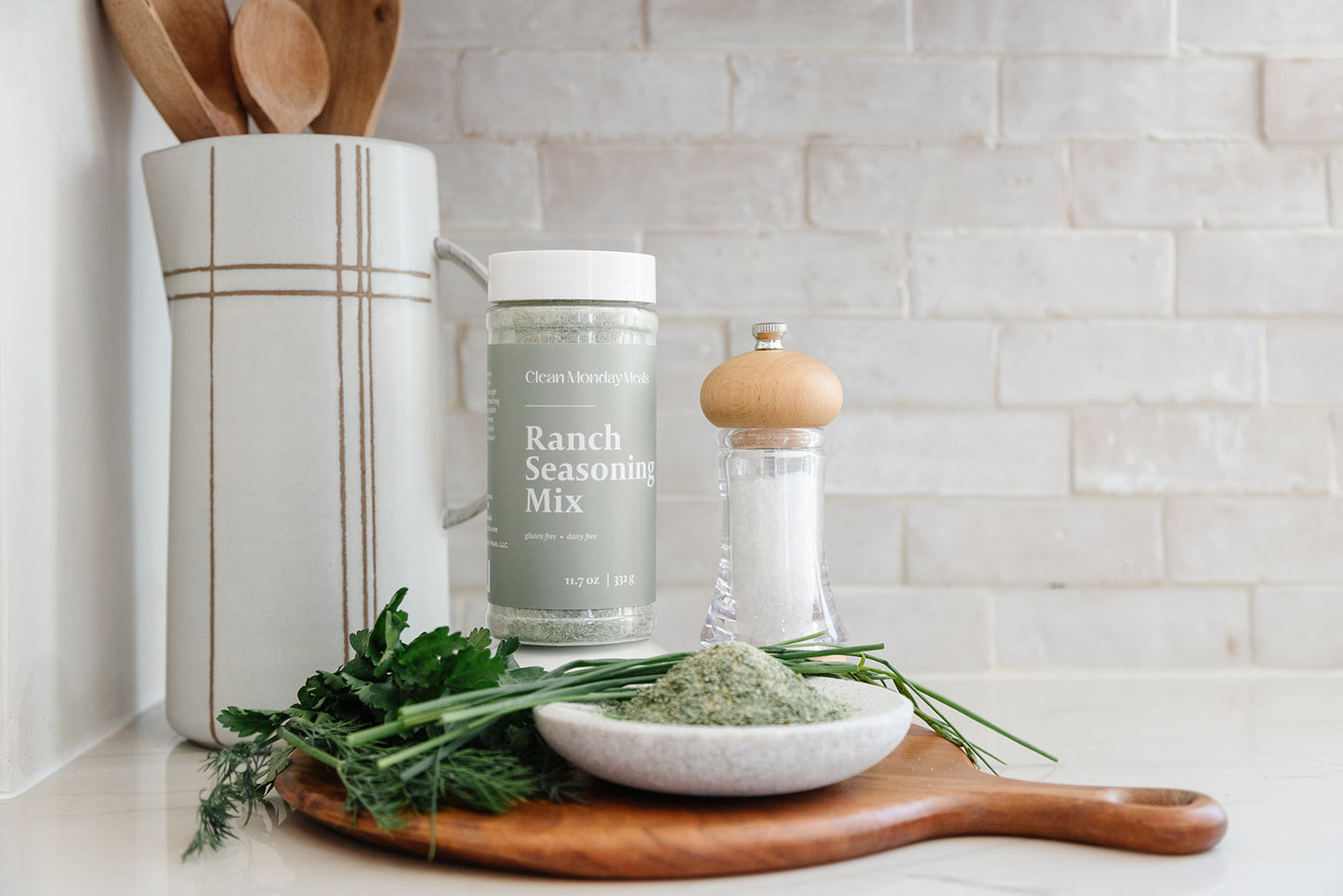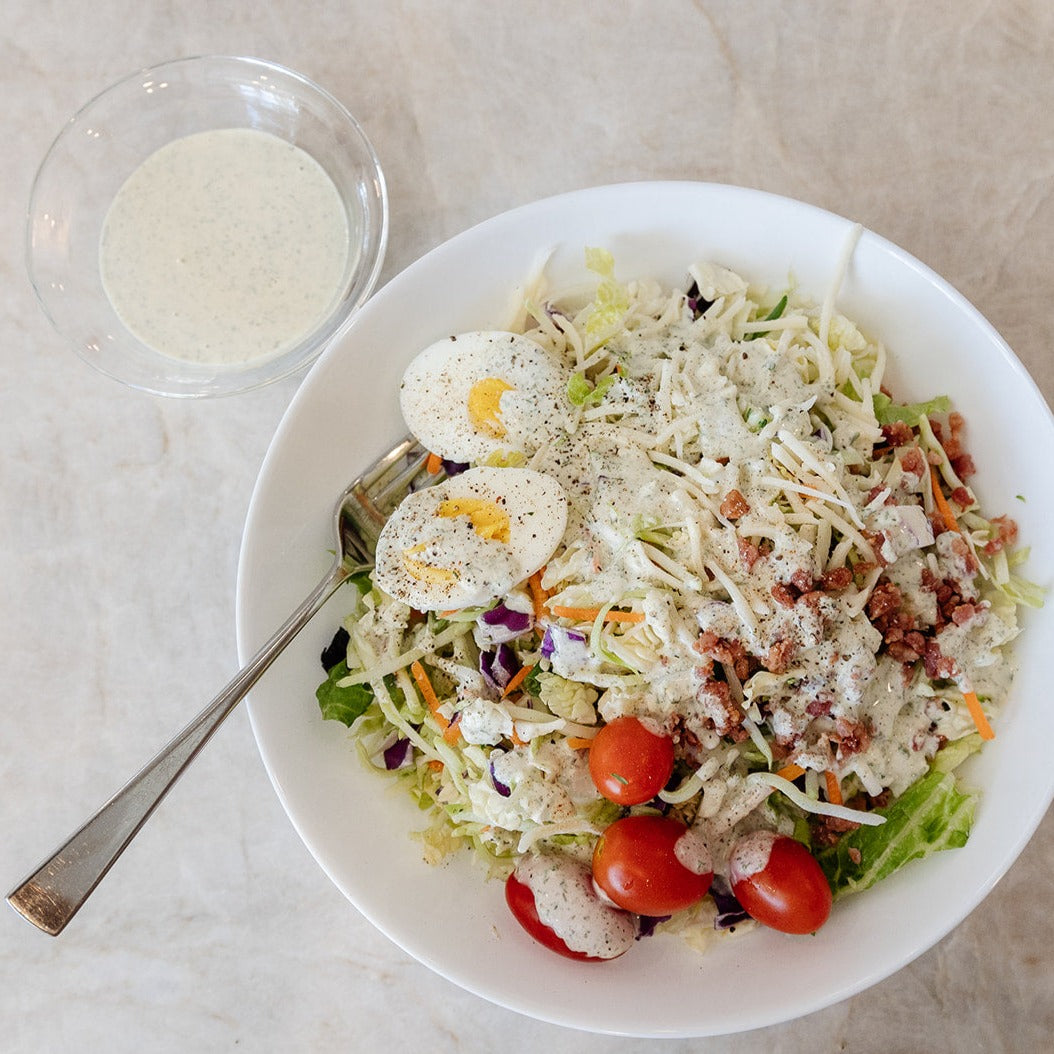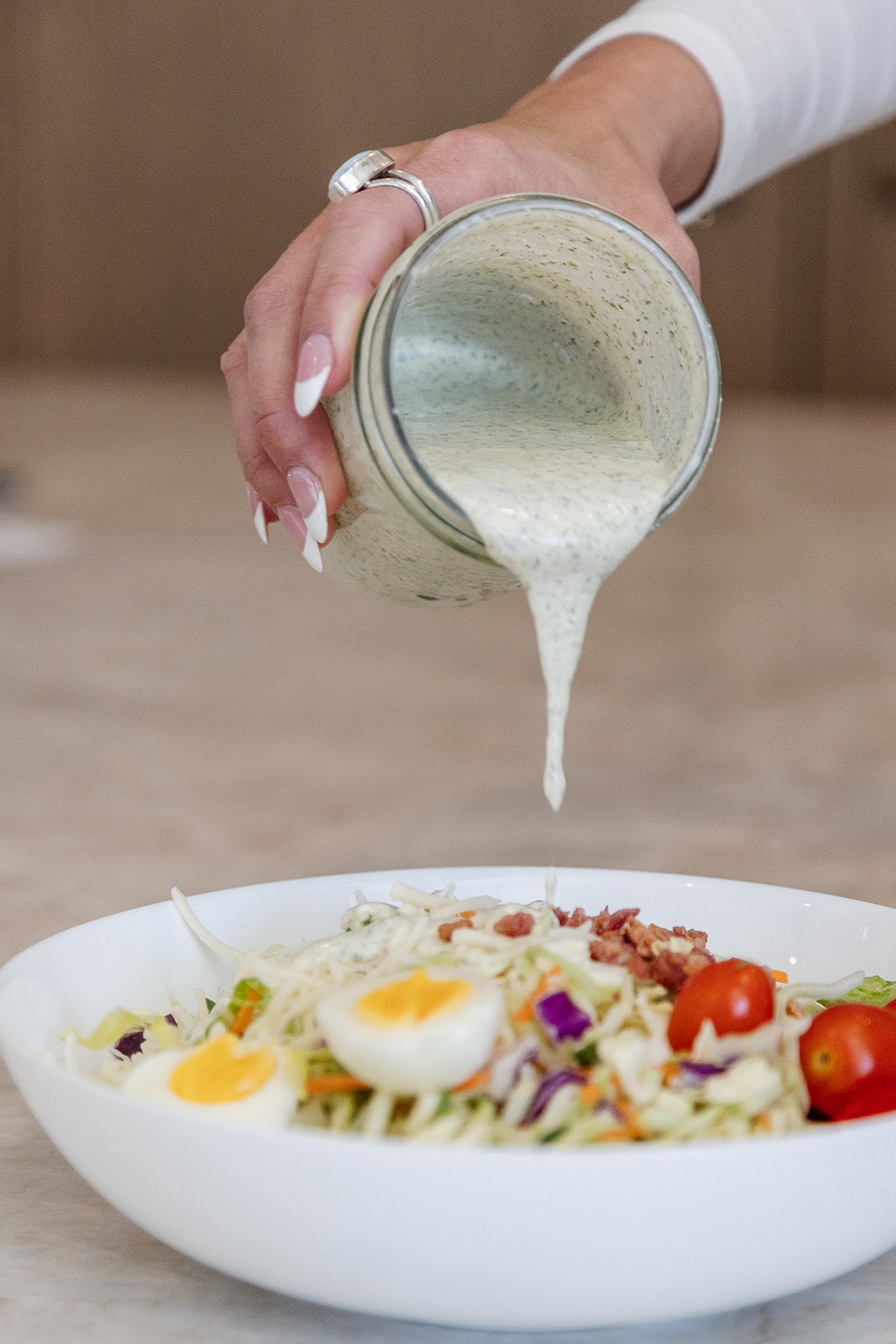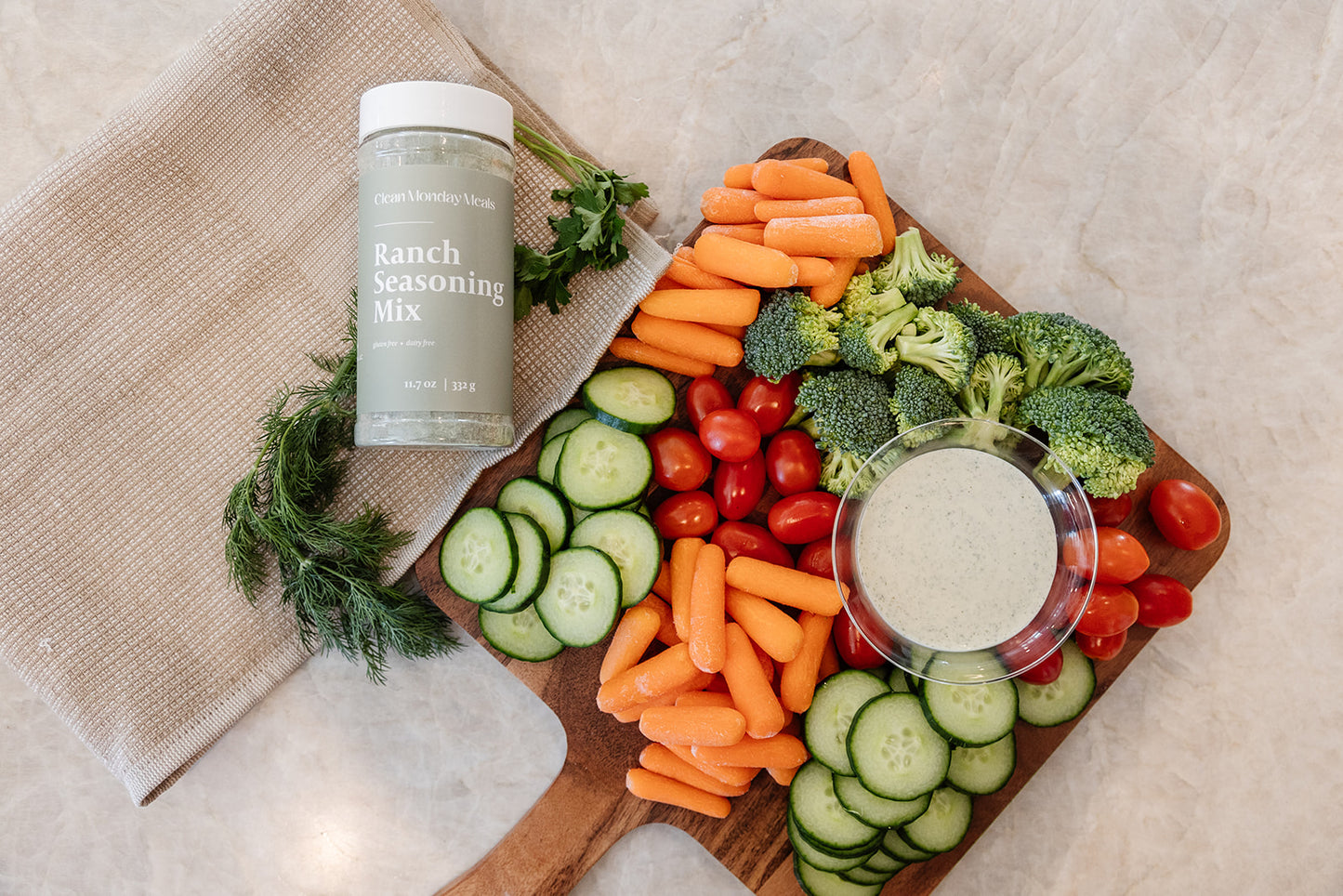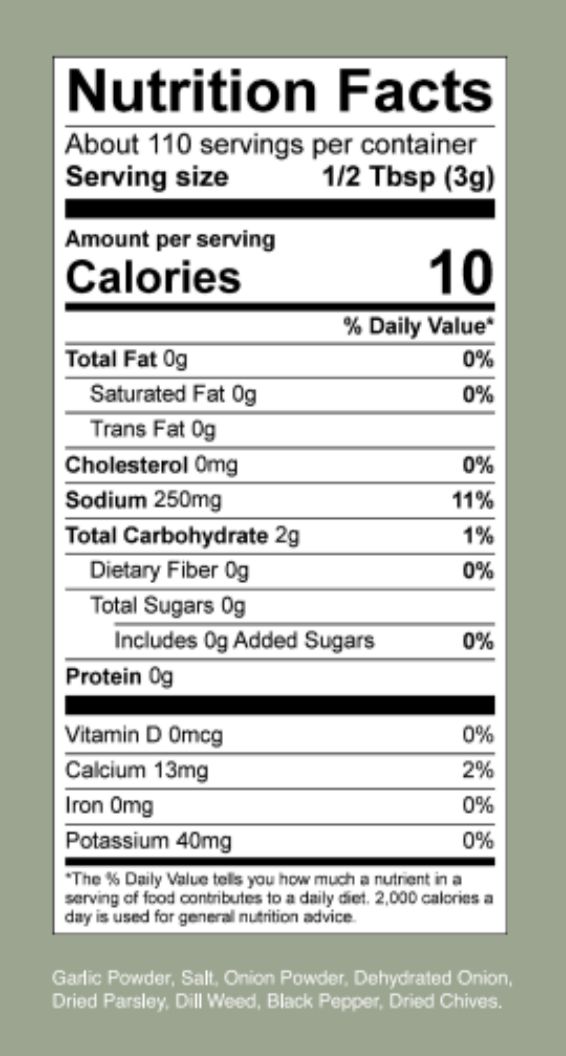 Fresh Dressing Recipe
Ingredients:
1/2 cup milk of choice (use coconut milk for dairy-free)
1/2 cup mayo (use primal kitchen brand)
1 1/2 tbsp Clean Monday Meals Ranch Seasoning Mix

Instructions:
Combine all ingredients in a bowl or blender bottle and mix well. Chill in refrigerator for at least 30 minutes. Stir before serving.

Enjoy!
Veggie Dip
Ingredients:
1 container (16 ounces) Sour Cream. I use good culture brand and they have lactose free as well.
2 TBSP Clean Monday Meals Ranch Seasoning Mix
1/4 cup chopped green onion (optional)
3/4 cup diced, fresh tomatoes
Assorted Vegetables
Potato or corn chips for dipping

Instructions:
Combine dips mix with sour cream. Stir in tomatoes or onions for flavor. Chill at least one hour. Serve with assorted vegetables, potato chips or even corn chips.

Enjoy!
Gluten-Free Hawaiian Haystacks
Ingredients:
8 TBSP grass-fed butter (for dairy-free use @miyokoscreamery)
1/2 cup gluten-free flour (I use Bob's Res Mill Flour)
1 TSP kosher salt
1/2 cup sour cream (for dairy-free use forager)
1/4 TSP freshly ground black pepper
32 ounces reduced sodium organic chicken broth
2 TBSP Clean Monday Meals Ranch Seasoning Mix
1/4 TSP garlic salt
2 cups of cooked and shredded chicken breast
Steamed rice, enough for your family.

Toppings:
Chow Mein Crispy Noodles (my kids love these!)
Slided green onions
Black olives
Pineapple
Almonds
Cranberries
Tomatoes
Shredded Cheese

Instructions:
1. Place butter into a large sauce pan over medium heat, stirring to melt. Slowly whisk in flour, salt, and pepper until smooth and thick, for 1-2 minutes. Slowly whisk in chicken broth until smooth, increase heat to high whisking until thick, about 2 minutes. Add sour cream, ranch seasoning, garlic salt, and cooked chicken breast. Stir and season accordingly. You may prefer additional salt, pepper, and garlic salt. I transferred this to my crock pot and kept it on low all day until dinner. You can either serve it immediately or crock pot it until you are ready.

2. Place rice on service plates and top with chicken gravy. Have toppings at the table and top with whatever you would like!


Enjoy!