Regular price
Sale price
$14.99
Unit price
per
Sale
Sold out
In 2020 our Daughter, Kolbie (age 12 at the time), was diagnosed with Diabetes & shortly after, Celiac disease. Kolbie loved Ramen noodles before her diagnosis as an occasional after-school meal. I know how it stinks to lose food you once loved. I was determined to find or create Ramen to make her feel normal. All the gluten-free Ramen I could find online didn't taste as good as we'd hoped, and they had ingredients I didn't want her to eat. Unable to find one, I came up with a blend that we fell in love with and just kept a mason jar of it in my spice cabinet at all times for her.
After a couple of years and enough people asking me if they could buy a bottle of my seasoning, I finally took a leap of faith. I found a manufacturer to help me mass produce it, and just like that, it turned into a business I never expected, with more seasonings on the way. 

My Chicken Ramen Seasoning has all the flavors you love about Ramen and none of the MSG or other nasty stuff. I use Gluten-Free Rice noodles (because I'm Celiac), but my seasoning tastes amazing with whatever noodle you'd prefer.

We created a custom bouillon mix since all bullion mixes had extra additives like palm oil, yeast extract, or soybean oil. We wanted to be as allergy-friendly as possible, and we are excited to announce that it's free from soy, nut, MSG, gluten, dairy, egg and shellfish.  
Ingredient List:
Chicken Bouillon (Nutritional Yeast, Organic Chicken Stock, Salt, Vegetable Blend (Potato, Garlic, Onion, Celery), Salt, Garlic, Sugar, Onion, Turmeric (for color), Thyme, and Paprika

The two-year shelf life on unopened bottles. Store out of direct sunlight and in a cool, dry location. 
Share
View full details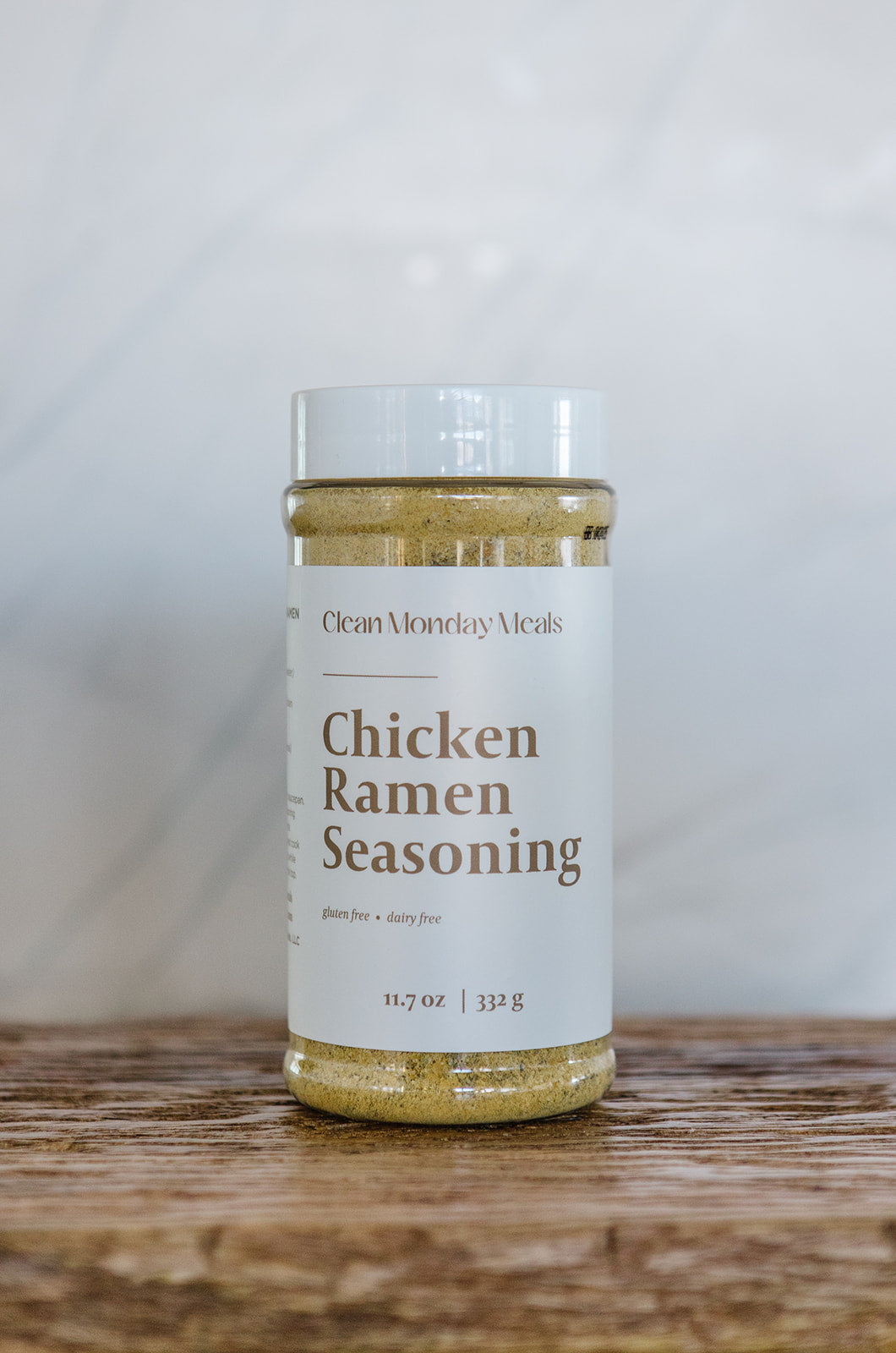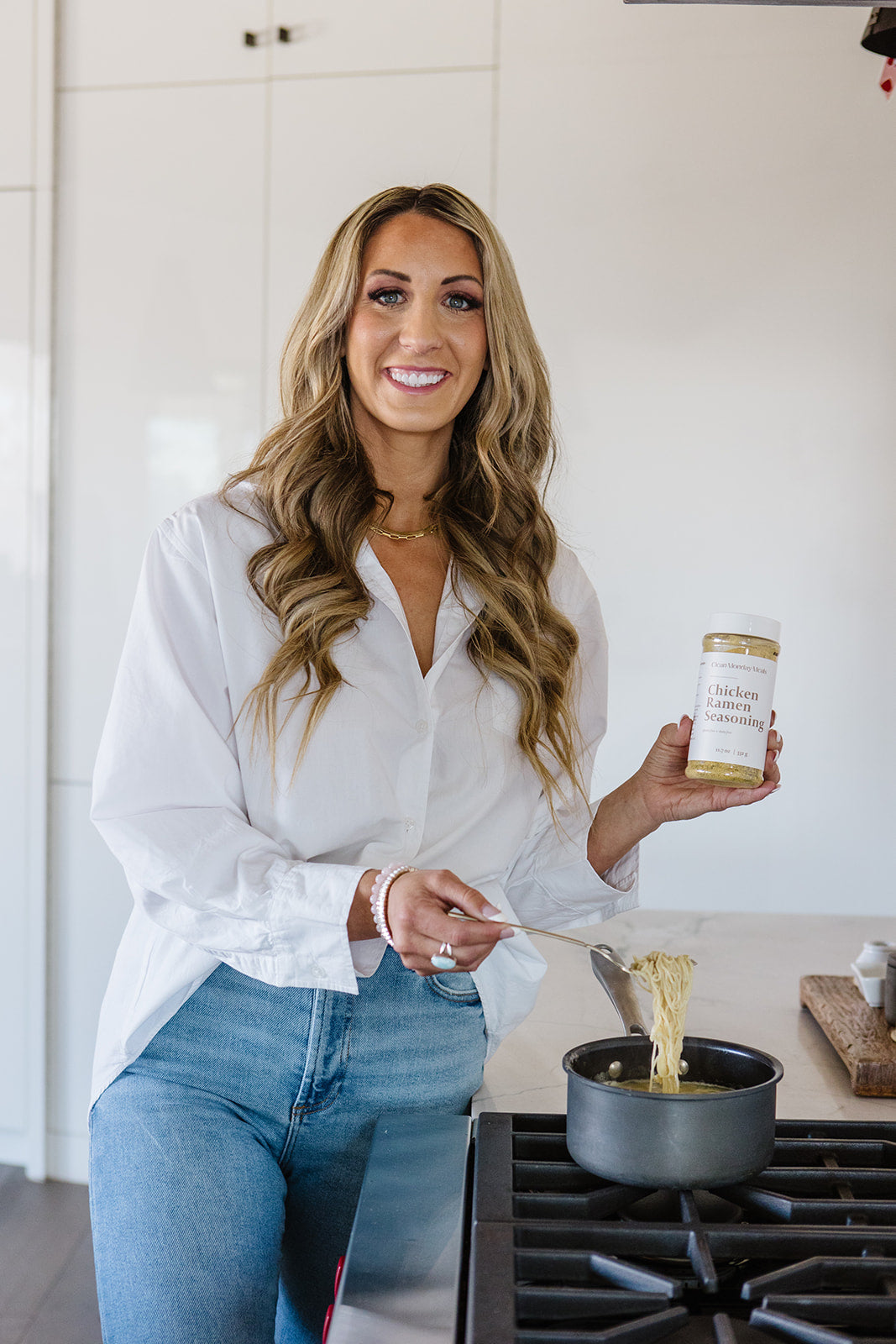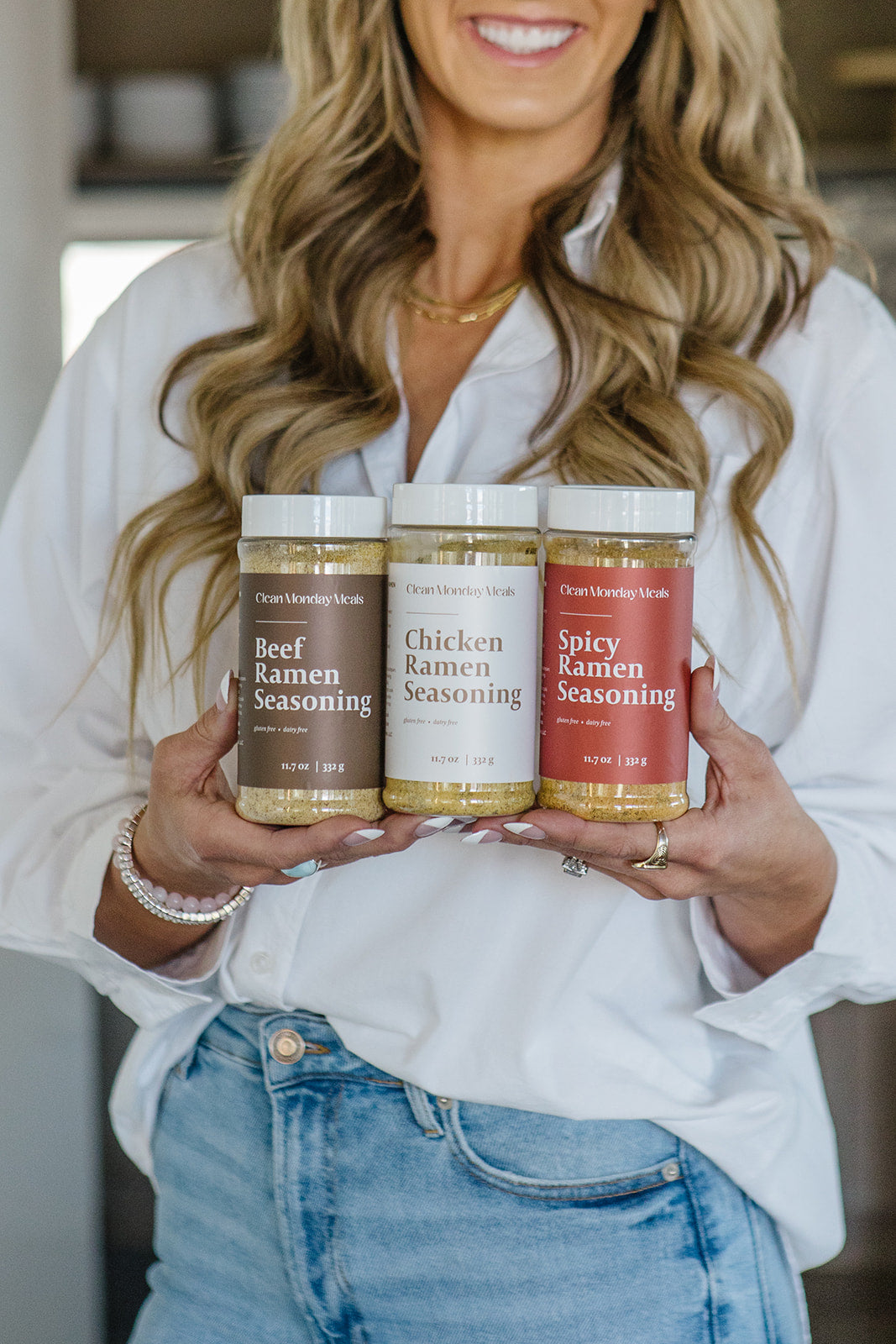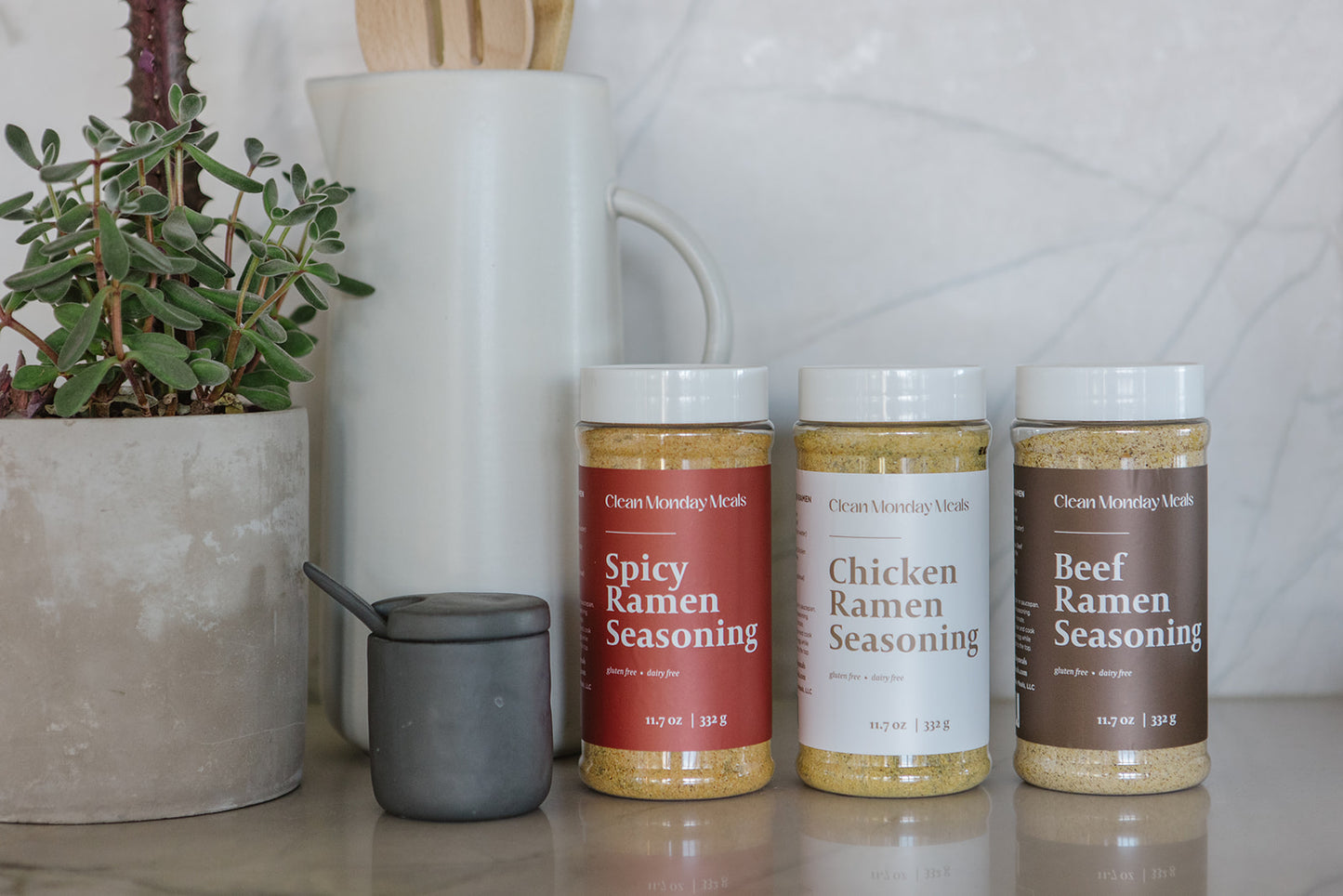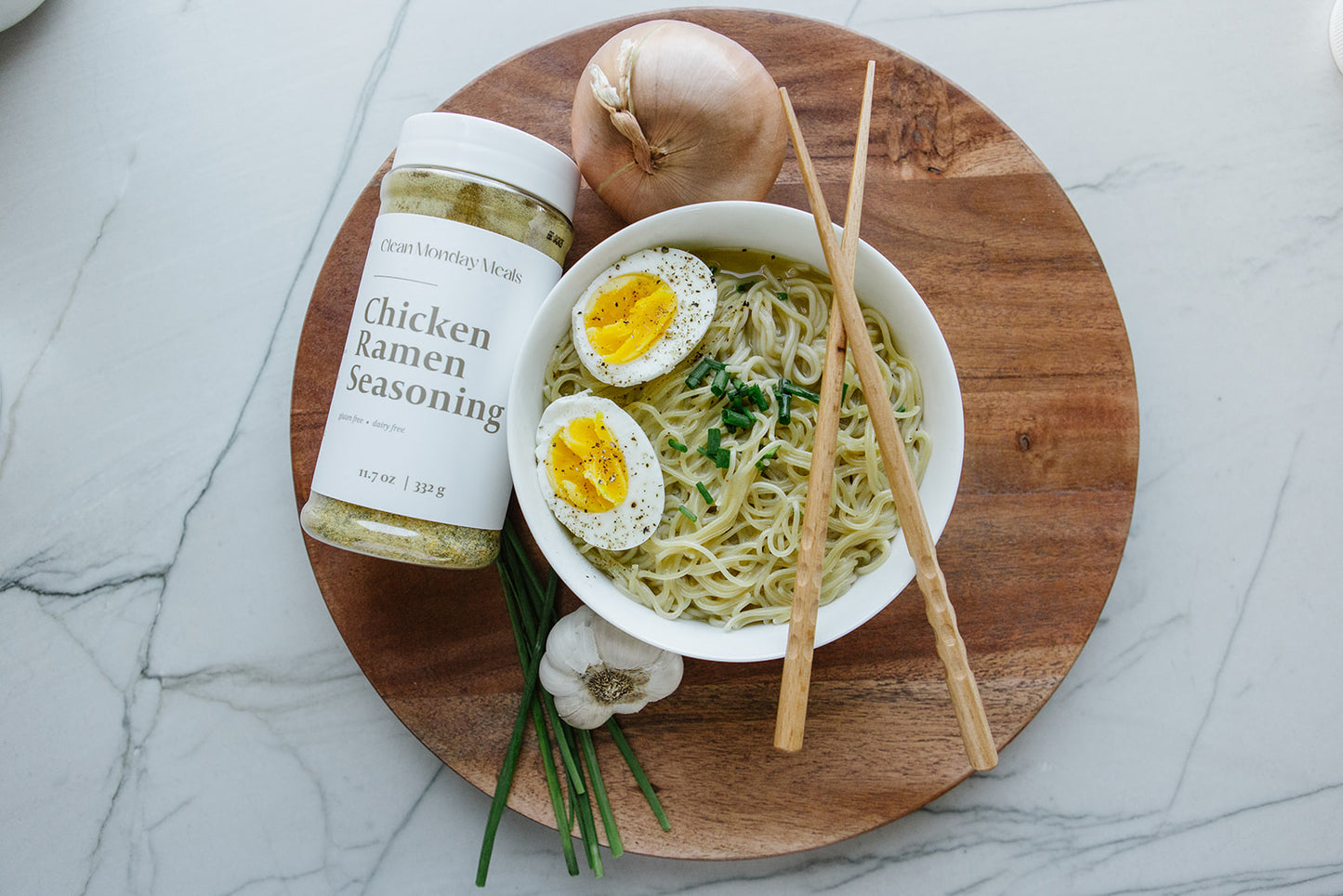 Gluten-Free Ramen Noodles
Ingredients:
1 square @lotusfoods rice ramen (I get mine at Costco)
1 1/2 cup chicken bone broth (I love @pacificfoods brand)
1 TBSP grass-fed butter
1/2 TBSP Clean Monday Meals Ramen Seasoning Mix
1-2 eggs (optional)
Shredded chicken (optional)
Veggies (optional)

Instructions:
Combine bone broth and butter into a saucepan. Bring to a rolling boil and add seasoning. Add ramen square and let boil for 1 minute, then pull a part with a fork and turn to low and cook for 3 minutes. Cook your egg while the ramen is finishing and add to the top.

Enjoy!