The BEST Stuff To Put On Your Fruit!
Before Joes Famous Seasonings even launched this new product they sent me a sample to try and provide feedback. Well, as you can see from the picture above, the Family and I fell in love instantly! This small bag they sent me was gone within the week and I was emailing them back saying "SEND MORE…. VERY SOON".
Make sure to use my discount code CLEAN20 at checkout!
Click here to check out product
Enjoy!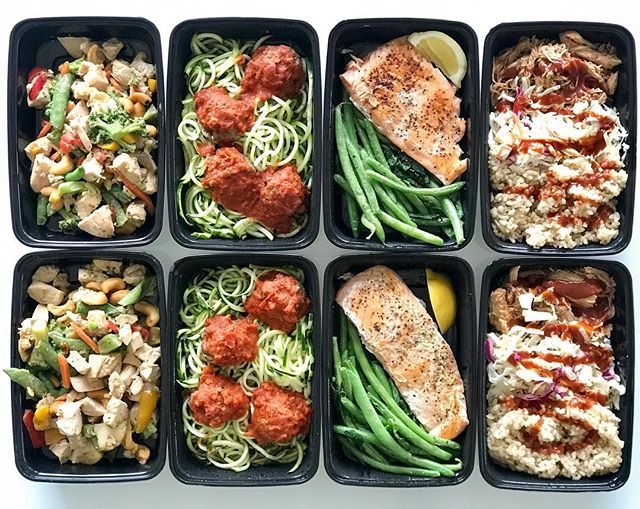 I am so excited to eat my meals this week!! Check out my insta story for step by step instructions for these meals. This week I made Cashew Chicken Stir Fry Lemon Pepper Salmon with Veggies Doodles and Meatballs BBQ Pulled Pork with Cole Slaw and Rice Breakfast Bowls (not shown)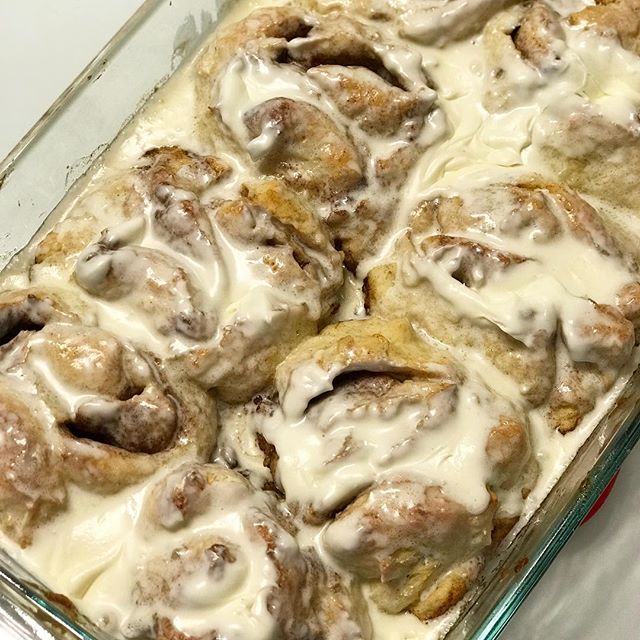 Gluten & Dairy Free Cinnamon Rolls Ingredients: Dough: 1/4 cup @earthbalance butter 1/2 cup Sugar 2 Eggs 2-1/4 tsp Yeast Packet (from package) 1 cup water (warm) 3-1/4 cup @bobsredmill Gluten Free Pizza Crust Mix White Rice Flour ( as needed for dusting) Filling: 1/4 cup @earthbalance butter (melted) 1/2 cup Brown Sugar 2 tsp ground Cinnamon Preheat the oven to 375°F. Add 1 Tbsp of the sugar to the warm water. Sprinkle the yeast packet on top of water and let sit 5 minutes. Cream together the butter and sugar. Add eggs, one at a time, making sure to blend in completely. Add the yeast mixture to the butter/egg mixture and blend. Add in the pizza crust mix; blend two minutes. Heavily dust a 2-foot long sheet of wax paper with rice flour. Spread batter over the length of the wax paper, about 19 inches. Using warm water, wet your hands and press the batter outward to fill the sheet. Keep your hands wet. Once the batter evenly covers the wax paper, brush melted butter over the batter from edge to edge. Filling: Combine the cinnamon and sugar and then sprinkle mixture over the batter from edge to edge. Pick up the short end of the wax paper and begin carefully rolling the batter over itself like you would a jelly roll. Cut the roll into 1 1/2 inch pieces and gently place the disks into the 9 x 13 inch greased pan. It is okay to crowd them. Let the rolls rise in a warm place for 30 minutes. Bake for 20-25 minutes. Remove from oven. Top with frosting. I found a dairy free canned frosting at the store I used, you can also make dairy free frosting. Note: If only gluten free use regular butter for this.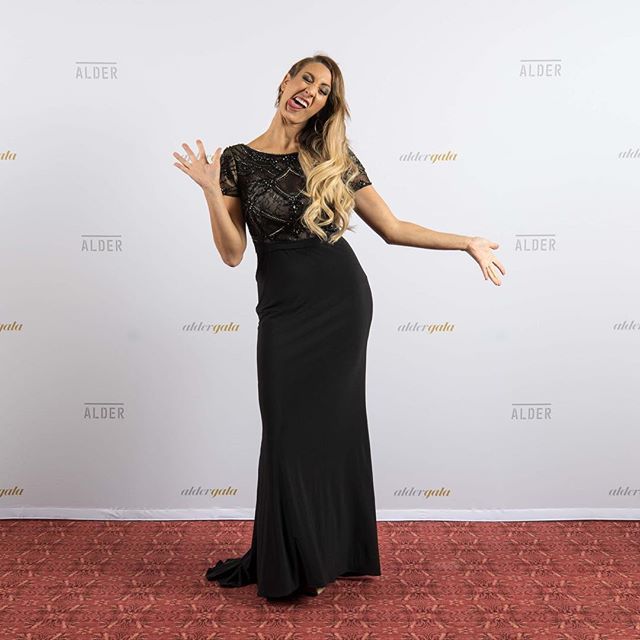 A little over a year ago I got the courage to start this page. It began with me sharing my passion and love of meal prep, and slowly evolved into me being vulnerable and opening up about the most significant struggles I face with Celiac Diesease and now PCOS. As I look back at the last three years of my life and the things I have endured I am so grateful to be where I am. Trust me when I tell you the news of Celiacs and PCOS rocked my world, and I didn't know how I was going to get through it. I was scared, overwhelmed, depressed, sad, and angry. I couldn't have pulled through without my amazing husband, friends, and you guys. There were constant nudges from those close to me to share my stories, thinking they could help others going through similar trials. Since I was a small child, I have always been happiest when serving others. I never imagined I might get the opportunity to help so many through social media. I believe with my whole heart that we are given trials in our lives to help others through theirs.  To my surprise I have received countless messages of gratitude for sharing my stories, recipes, and advice. I honestly didn't think there were so many of us going through similar trials. For any of you who are currently feeling overwhelmed I say; DO NOT give up. It does get easier. Because of this Instagram account, I feel somewhat of a responsibility to figure out gluten and dairy free options that taste amazing so I can help those like myself. It empowers me to know you care about what I share. It makes me feel like my trials are less of a burden and more of a puzzle I must figure out. I guess what I am trying to say is thank you so much for following along and inspiring me. ❤️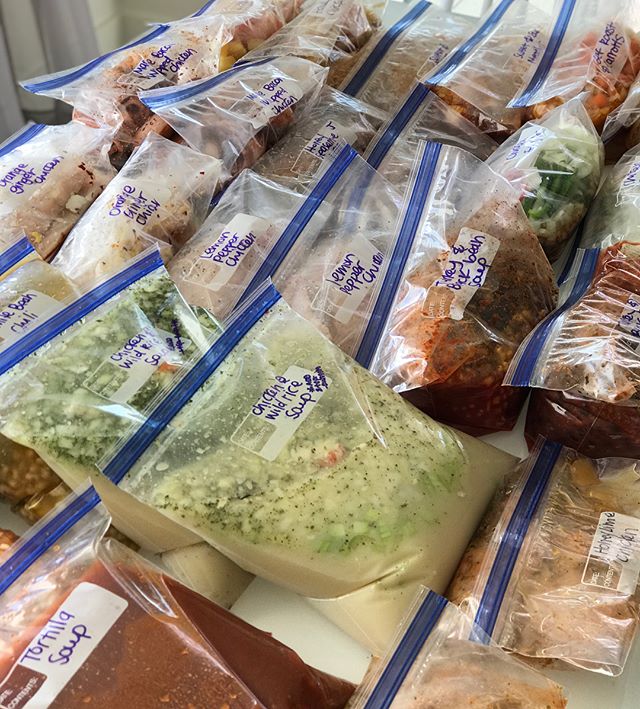 IT'S HERE!!! GLUTEN & DAIRY FREE Freezer Meals Grocery list and Recipes!! 🙌🏻 Swipe 👈 for Menu, grocery list, and recipes. Cooking instructions aren't listed only because I wanted to explain. You can use your instant pot, crock pot, stove top or grill. i like to switch it up. If using a crockpot, you can cook them on low for 3-5 hours. Instant pot will vary on what meal you are cooking. I am so excited for you to try these out! If you missed my post about the freezer meals check out my last post for details. Lots of you tagged your friends in the previous post now tag them again and make them commit to a day to do them!! 💁🏼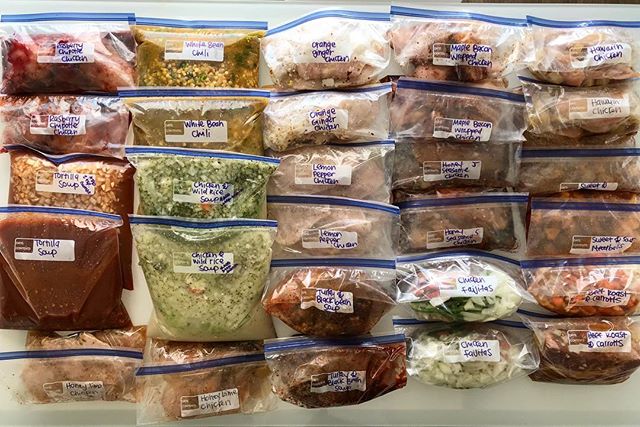 Today was freezer meal day!! My sister in law and I made 14 meals each that feeds our family of 5 in under 2 hours! Wait, it gets better it costs us $120.00 each! That means it costs us $8.50 per meal; you can't even go to Del Taco for that cheap!! Score! 🙌 Another bonus for some of you following me is that these meals are all GLUTEN and DAIRY FREE!!! A few months ago I did freezer meals and posted the recipes along with the grocery list, who wants to see that again? I mean the only thing better would be getting me in the kitchen with you! 💁🏼😜 Tag your best friend you want to make these with!! Menu: Honey Lime Chicken Hawaiin Chicken Maple Bacon Wrapped Chicken Chicken and Wild Rice Soup White Bean Chili Sweet and Sour Meatballs Orange Ginger Chicken Lemon Pepper Chicken Turkey and Black Bean Soup Honey Sesame Chicken Beef Roast and Carrots Raspberry Chipotle Chicken Tortilla Soup Chicken Fajitas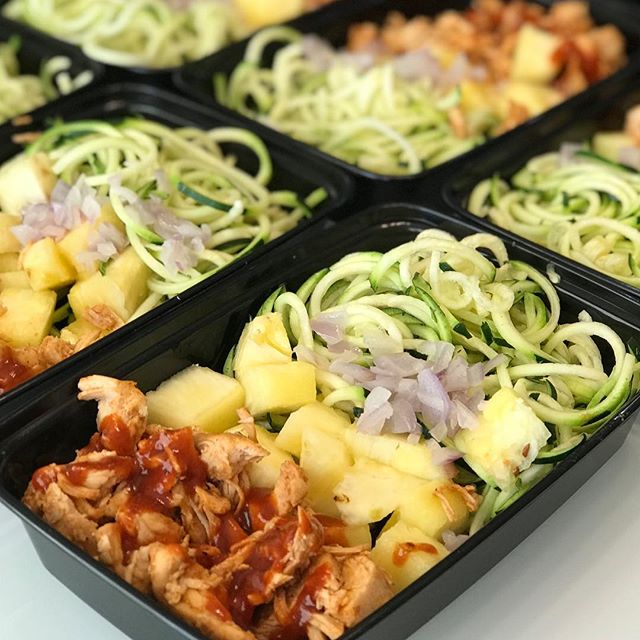 HAWAIIAN CHICKEN BOWLS INGREDIENTS * 2 pounds boneless skinless chicken breasts, diced * salt and pepper, to taste * 1 cup barbecue sauce (i used @stubbsbbqsauce ) * 1 fresh pineapple, diced * ¼ cup diced red onion * 1 pound zucchini noodles INSTRUCTIONS 1. Cook Chicken with bbq sauce leaving some for adding to the top. You can bake it at 350 for 20-25 min or use the pressure cooker. 3. Sauté the red onion on skillet. 4. Cut up pineapple and make zucchini noodles. 5. Divide chicken mixture evenly among 8 containers. Divide the fresh pineapple, red onion evenly among the containers as well. 4. If using fresh zucchini noodles add them to containers raw. When you reheat the bowls the zoodles will cook perfectly!! If cooked before they will become too soggy. If making this for dinner sauté the Zoodles with the red onion.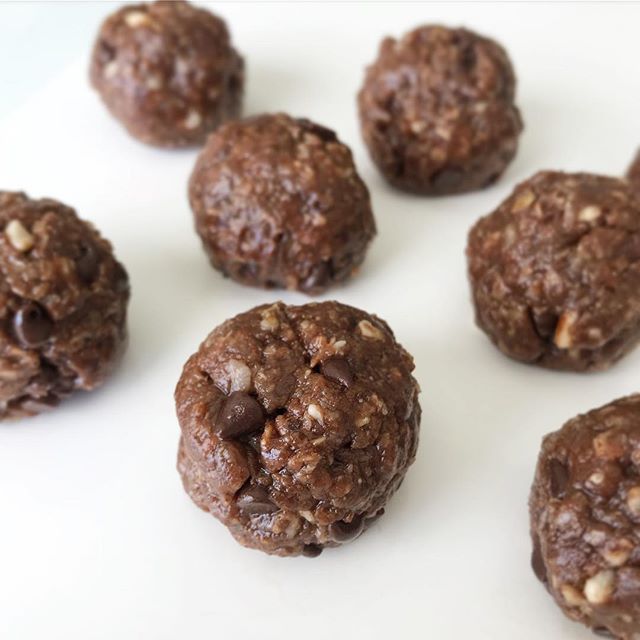 I cant take any credit for these amazing power balls. I got the recipe from @cleaneats_cleantreats and they are my absolute favorite energy bites to make! I changed the recipe only according to what I used to make it gluten and dairy free. Almond Joy Powerballs yield 30 balls Ingredients 1 1/2 cups @bobsredmill gluten free old fashion oats (slightly broken down in the blender) 1 cup almond butter ( I got mine at Costco) 1/2 cup toasted (don't skip that) unsweetened coconut 1/2 cup raw honey 1/4 cup @enjoylifefoods life chocolate chips 1 scoop @naturesproperty Chocolate Bone Broth Protien Powder 2 tbsp cocoa powder 2 tbsp chopped almonds 1-2 tbsp coconut milk (start with one, depending on the consistency you may not need to add the other) 1 tbsp coconut oil, melted 1 tsp almond extract 1/2 tsp vanilla extract 1/4 tsp sea salt Instructions Combine all dry ingredients in kitchen-aid mixer bowl. Mix on low until ingredients are well blended. Add wet ingredients to blended dry ingredients. Mix on medium speed until a "dough" forms. Scrape sides of bowl with a spatula and mix again if needed. Remove bowl from Kitchen-aid stand. Using a 2-inch cookie scoop form dough into balls. Set balls on a parchment lined cookie sheet or storage container and refrigerate for at least one hour or until ready to eat. Keep refrigerated up to one week, if they last that long! Enjoy!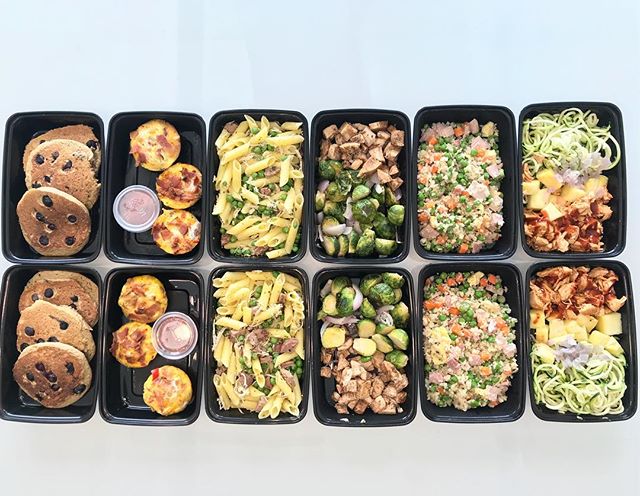 Monday Meal Prep Menu Blueberry Pancakes Breakfast Muffins Penne Sausage Pesto Bowls Balsamic Chicken With Roasted Brussel Sprouts Ham Fried Cauliflower Rice BBQ Hawaiian Bowls Chicken Salad Mason Jar (not shown) Almond Joy Energy Bites (not shown) Check my insta stories from today to see step by step instructions on how I made each meal! Which recipe are you most excited for me to post this week?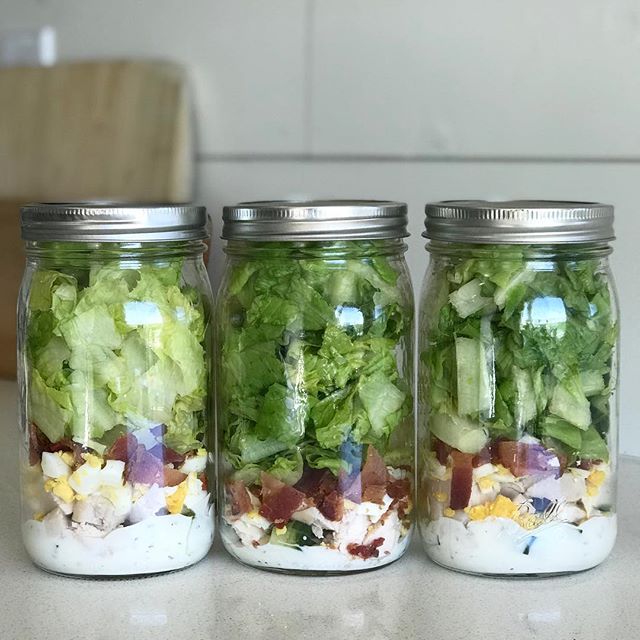 Everyone is ALWAYS so shocked that Mason Jar Salads last up to five days, fresh and still good lettuce! It's the best way to make a salad, simple ingredients, dump in, shake and eat! If you haven't jumped on the bandwagon I suggest you do so; it will change your life! The one I made this past week is the Cobb Salad. I used @bolthousefarms Greek yogurt ranch dressing, (homemade dairy-free ranch for mine) next I added cucumbers, chicken, hard boiled egg, bacon and then lastly I stuffed it with lettuce. I saved the step by step by step in my story highlights for you! Enjoy 😘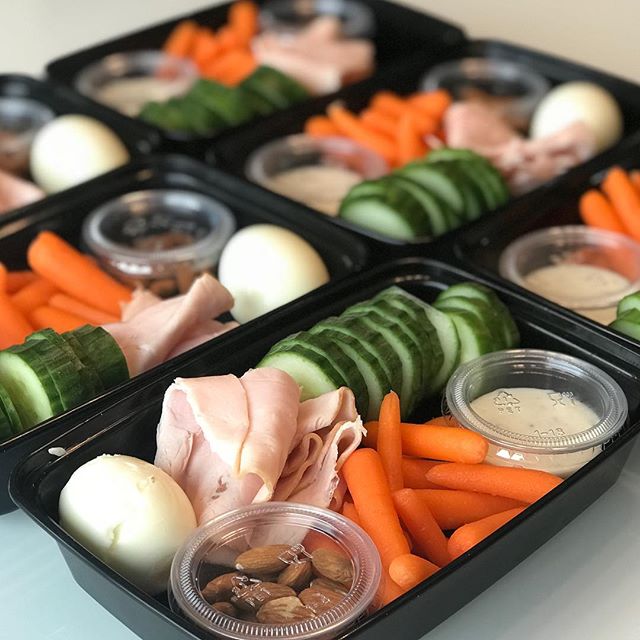 Snack Boxes are amazing!!! Fast, easy and convenient. Great way to get some protein and veggies in between meals. Plus my kids will grab them out of the fridge after school too!! This week I used hard boiled eggs, cucumbers, carrots, all natural turkey, a little cup of almonds and a cup of Greek yogurt ranch. I used the Homemade dairy free ranch for mine! Who's making snack boxes and who needs to start asap?! 🙋🏼‍♀️